(2017) Drayton Entertainment – A piece of rock 'n' roll history live on stage at three summer theatres across Ontario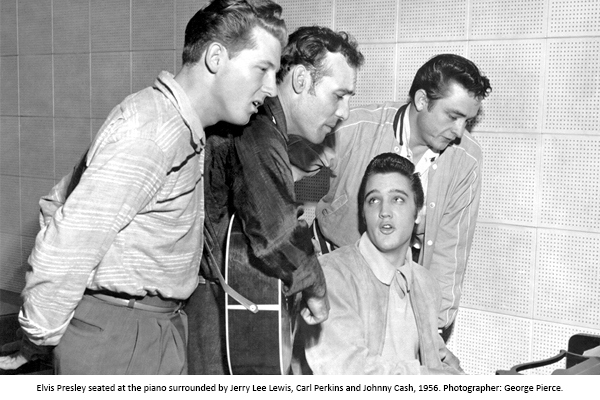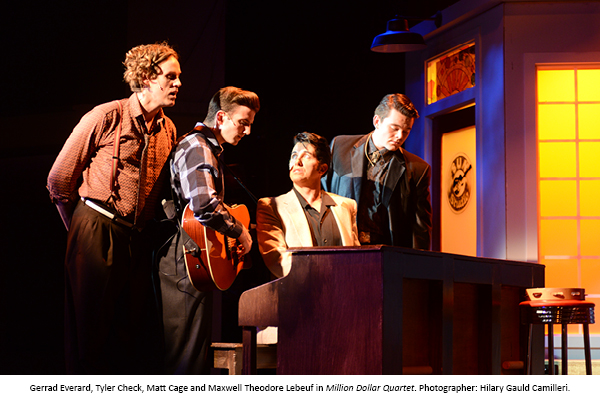 Earlier this spring, Dunfield Theatre Cambridge was rocking out to a little piece of music history. Audience members declared it a mega-hit!  Now, Million Dollar Quartet, the hit musical inspired by true events, is heading up the highway to the Kings' Wharf Theatre in Penetanguishene.
After record-breaking runs on Broadway, in the West End and Las Vegas, Drayton Entertainment is one of the first professional regional theatre companies to produce the coveted show in Canada.
The Tony Award-winning musical is inspired by the legendary 1956 recording session at Sun Records in Memphis. History was made when an extraordinary twist of fate brought together then-rising star Johnny Cash, unknown Jerry Lee Lewis, veteran musician Carl Perkins, and chart-topper Elvis Presley for the first and only time. This real life jam session produced an "off the cuff" record and the four were forever dubbed the Million Dollar Quartet – cemented by a now-iconic image taken by photographer George Pierce of Presley seated at the piano surrounded by Lewis, Perkins and Cash.
Matt Cage (Elvis), Tyler Check (Carl Perkins), Gerrad Everard (Jerry Lee Lewis) and Maxwell Theodore Lebeuf (Johnny Cash) have been astounding audiences with their uncanny resemblance to the musical legends. Not only do they look like their famous counterparts, but they play their own instruments and sound remarkably similar knocking out hits like "Blue Suede Shoes," "Fever," "That's All Right," "Great Balls of Fire," "Hound Dog" and more.
You can check out the show at the King's Wharf Theatre from June 21 to July 15, and while you are there, visit Penetanguishene's historic tall ships at Discovery Harbour, eat some great food at Captain Roberts' Table right beside the theatre, or relax on one of many charming beaches in the Georgian Bay area – plus, it's just a 40 minute drive from Barrie and Orillia and only two hours from Toronto.
After its run up north, Million Dollar Quartet will move south to the Huron Country Playhouse in Grand Bend from July 19 to August 5.  Head to the beach for a picnic or stroll down the famous 'strip' for some unique shopping.  If you are looking for an adult's night out, there is no lack of restaurants and bars along the water to catch a bite to eat before or after this powerhouse musical.
This rockin' musical finishes its run at the Drayton Festival Theatre running from August 9 to September 2.  While in the quaint town of Drayton, you can enjoy a meal at the Chophouse or check out the Old Tyme Fair and the Annual Car Show depending on the day.
Drayton Entertainment's seven unique theatres allow you to explore four charming communities, all just a short drive from home. With 17 productions on stage this year including Beauty and the Beast and Joseph and the Technicolor Dreamcoat, there is something for everyone. No matter what direction you are heading this summer, we have you covered with the Drayton Festival Theatre in Drayton, Dunfield Theatre Cambridge in Cambridge, Huron Country Playhouse and Playhouse II in Grand Bend, King's Wharf Theatre in Penetanguishene, and St. Jacobs Country Playhouse and the Schoolhouse Theatre in St. Jacobs. Let the daytrips begin!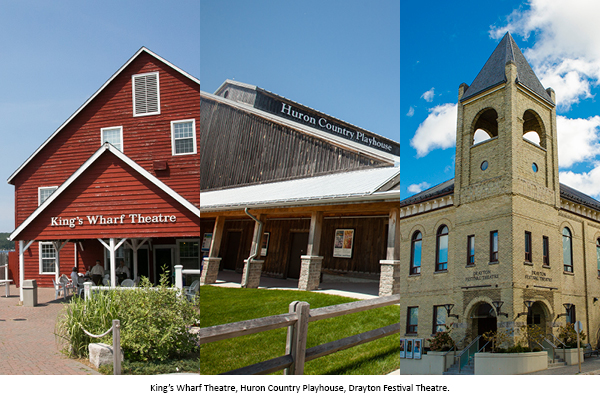 ---