Rose Theatre, Brampton
Today we are approaching Brampton from the northeast, having made an earlier errand run to Schomberg. Rather than hopping back on yet another 400 series highway, we decide to zigzag through pretty Peel Region, along Mt. Wolfe Road and Old Church Road and The Gore Road. I can't remember ever seeing a street name with a "The" in it. Luckily, there's this handy website that gives the origin behind Peel street names (seriously). I learn that a gore is an intersection that creates a thin triangle. So.
It's lunchtime. There is a Vietnamese restaurant downtown close to the theatre, but Designated Travel Companion (DTC) and I are hungry now. Tripadvisor is my co-pilot and I locate the well-reviewed Pho Bo Saigon along the way. It's a good call; we pull into a nondescript strip mall, usually a solid indicator that we're about to get a tasty meal.
The jasmine tea arrives as soon as we are seated. Just the pho listings take up two full pages and I am glad for the English translations—I don't want to accidentally eat tripe again. I'm an adventurous eater but not that adventurous. I go for #P1, Phở tái, straightforward rare beef and rice noodles in broth. A not-so-small bowl is $5; the XL is bigger than your head and will set you back a whopping seven bucks.
Into my piping hot bowl of pho I add just enough glistening drops of red chili oil to make my nose run. Thai basil and bean sprouts get piled onto the broth and you cannot imagine how delighted I am by those sprouts. In my small-town idyll, if you can even find bean sprouts, they've often seen better days and/or are bound in a Styrofoam prison by a large swath of plastic wrap. These are fresh and crisp and light-tasting. I offer a silent prayer of thanks
DTC compliments his fried fish special, something about it being crunchy and not greasy, and accompanied by vegetables and noodles or rice or something, but it doesn't really register—I am face-first into this life-affirming bowl of fragrant, steaming perfection. La la la can't hear you. Eating.
On the way back to the car after lunch, I spy Peninsula Bakery, the kind of place with plastic trays and tongs, and rows of bins filled with delights. For the entirely ridiculous sum of $2.85, I grab two Chinese buns, sweet and chewy bread filled with BBQ pork or chicken; a dense black bean bun; and two danish-y fruit-filled thingies. I love Chinese bakeries. They remind me of my morning commute through East Chinatown in Toronto when I was green and poor. These go into the picnic basket for a late night treat on the drive home.
Okay, headed to downtown Brampton in earnest this time. A trip straight down Main Street takes us into the heart of the city. It's busy with cars and transit but we find street parking easily enough. As soon as we turn off the ignition, the threatening skies finally open up. Fine. We were headed into Peel Art Gallery Museum + Archives (PAMA) anyway.
Next to the welcome desk is Spirit Seeds: A Celebration of First Nations Beadwork in the Community Connections Gallery.  It's a pleasant little space, hushed and quiet as a tomb save for the TV monitor that plays a looping video of personal oral histories. Cabinets are filled with exquisite objects decorated in tiny glass beads—"Little Spirits" in some First Nations languages. DTC and I sign our names on wooden beads and thread them onto the community string.
We pop over to the museum portion and, although the focus seems directed to younger families, it's a fine diversion. Current exhibits explore the history of Peel Region, including its aboriginal roots, industry and farming. The Peel County Jail, one of four buildings that makes up PAMA, opened in 1867 and was decommissioned 110 years later. Three jail cells remain intact. You can examine the iron bars and thick walls and get a sense of what it was like as an inmate. As I move from the one cell to another, I am startled by a mannequin propped up in the corner. I feel a little silly; it isn't even that lifelike. But we're seeing a thriller tonight at Rose Theatre, maybe my nerves are already on edge. Yep. I'm sure that's it.
The Art Gallery at PAMA recently underwent an expansion to house its growing collection. Under the tutelage of David Somers (curator 1989-2009), this county gallery increased its Permanent Collection from 300 works to over 3500 and counting; his endowment fund enables the gallery to continue to acquire new pieces.  An interpretive guide tells us a little about the late curator and the current show honouring him, LEGACY: David Somers and PAMA's Works on Paper Collection.  Some of David's favourite pieces, as assembled from his archival notes, are on display. There is artwork by internationally renowned artists like Andy Warhol and David Hockney. I recognize pieces by Michael Snow and Robert Motherwell, but it's the charming etching and aquatint on paper, Interior and Exterior by Annie Pootoogook, a third generation artist of Innuit heritage, that holds my attention.
PAMA is a cheap date and a great way to spend an afternoon. Adult tickets are $4.50, less for kids and seniors, and a family of up to seven people can enter for $10.
The sun has come out while we were in the gallery and it's become a serene summer's day. I'm meeting with Robert Woodcock, Theatre Production Coordinator for Rose Theatre Brampton, in about half an hour; it gives DTC and me enough time to wander across the street to Gage Park.
In its earliest days, Brampton was a global powerhouse in the cut flower industry. Established in 1863, Dale's Nursery was the largest of the city's employers and the biggest nursery in North America in its heyday, producing 20 million blooms and encompassing 140 greenhouses. At one time, there were 48 nurseries operating in town. Along the way, Brampton adopted the moniker Flower City as a part of its revitalization efforts and to honour its heritage; the Rose Theatre was named in step with this strategy.
You see the results of these efforts downtown. The flowerbeds are abundant and gorgeous. In the park's centre is a picturesque gazebo, which is wrapped with twinkling lights and ringed with a skating rink in winter. I am drawn to the canopy of trees overhead and aiming my camera directly up the trunk of some sort of coniferous when I am nearly bonked on the head by a falling pinecone. Then another. And another. An industrious squirrel is stockpiling provisions and I happen to be in the way. Moving right along.
The gardens are even more lush at the new city hall adjacent to the park. There is a rotating sculpture of three girls at play entitled Young Canada by Manfred, and a water feature celebrating Etobicoke Creek. As I am framing a photo of the building, a woman scoots apologetically out of the shot. I offer my thanks and then inquire about the gelato she is obviously enjoying. She points to a store a few doors over. "Have you ever had Whole Foods gelato?" I shake my head. "Well, this is a thousand times better." Duly noted and bookmarked.
Rob is waiting for us in the lobby of the Rose Theatre. A big handshake and a quick smile, he is generous with his time even though he is a busy man; besides heading up the programming for the Summer Theatre Series, he is directing two of its four plays and also oversees the children's art camp. Rob is in what may be a unique situation: heading a theatre company as an employee of a municipality. The company grew out of Brampton's need for homemade programming due to the size restrictions at The Heritage Theatre, the venue which predated the Rose Theatre complex. The 20'x20′ stage—brick wall to brick wall—made for such a challenging space that they weren't able to book many touring shows. Hence the birth of the theatre company 15 years ago and its place in the operating budget for the city.
Black plastic chairs on black risers in a black-walled room, Studio Two is the quintessential black box theatre. The smaller of the two performance areas, this space can be configured with seating and stage in an endless variety. For last year's 12 Angry Men, the seats were raked up opposite walls, the performance taking place around a long table in the middle. Brilliant.
This current layout holds exactly 100 seats. The stage is wide and shallow, yet it takes up a good portion the room; the space is intimate and the walls of the mansion loom over us. Sarah Scroggie's set is an absolute visual delight. Based on the board game 13 Dead End Drive (sort of like Clue for those of my generation), the floor of the stage is painted like tiles, indicating the internal geography of a mansion; cartoonish portraits and faux rugs complete the effect. Rob explains that the element of game playing, at the very heart of Sleuth, inspired the setting.
The main space, with seating for 870, houses the largest stage I've ever stood on. It's mesmerizing and humbling and awesome. Not only does it host theatrical productions, concerts and movies, the main stage has also been home to private dinner parties. You're A Good Man, Charlie Brown, the fourth and final show of the Summer Series, opens here in a few weeks.
We bid Rob adieu and go on the hunt for supper. DTC and I are still a little full of pho but we know we'll need something to tide us over. We settle into Fanzorelli's Restaurant & Wine Bar nearby and decide on a dozen Malpeque oysters to start, a shared insalata mista to follow, all washed down with frosted pints of Stella Artois. A lovely late afternoon salute.
A basket of foccaccia arrives: dense and chewy and heaven of the sort a low-carb dieter dreams. Then the oysters, all glistening pretty on the half shell, little pots of freshly grated horseradish and mignonette sauce on the side. They taste like the sea and fill me with joy. I like the ritual of it: lemon squeeze, tip back, slip back, down the throat. (Insider's pro tip: Fanzorelli offers oysters for half-price on Tuesday nights this summer. And any night, a 15% discount if you have a Rose Theatre ticket for that evening's performance.) The insalata mista is piled high and drenched with a nicely balanced vinaigrette—a perfect ending.
We have lingered a little too long over dinner and slip into the last two seats as we arrive just before curtain; I forgot it was general admission. Moments later, the lights begin to tease over the set; it feels a little like the Haunted Mansion ride at Disney World, all lurid colours and spooky innuendo.
This production of Sleuth, by Anthony Shaffer, is directed by our friend Rob. The actors Scott Carmichael and Dan Karpenchuk, are old friends of Rose Theatre and warmly draw us into the game. Despite the fact that this classic is more than 40 years old, it hasn't aged a bit. It's only when we are nearing intermission that I realise I've seen the Laurence Olivier-Michael Caine movie version of this play. No matter; though I remember a substantial plot twist, I don't remember the ending and I still jump like a nervous nellie at the gunshots, each and every one.
Pacing is a tricky beast, even more so with a thriller: too slow and the story loses momentum; too fast and you lose half your audience. Rob and the actors find the right rhythm—the repartee is quick and the show zips gleefully along. The original music by Alexsis Karpenchuk adds to the fraught atmosphere. The actors play cat and mouse, artful, devious, with mounting tensions until we rush breathless to the final twist at the end. Fantastic fun!
Post-show, the audience is animated with chatter as we file out of the theatre. DTC and I are in for a long late drive home, so we grab a couple of coffees (the gelato café was closed; I checked) and I root around in the picnic basket for one of those buns from the Chinese bakery. I shift into drive and we hit the road, following taillights headed east.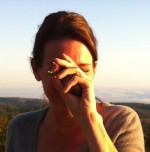 Anne Heathcote—writer, roadtripper, and theatre lover—is counting her blessings in Prince Edward County.
---