Globus Theatre, Bobcaygeon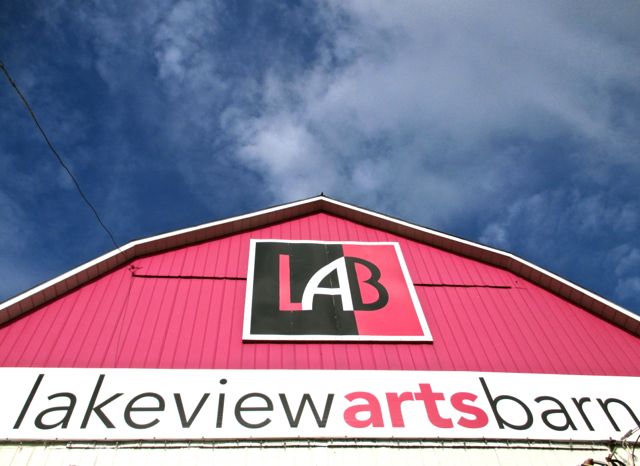 It is impossible to plan a trip to Bobcaygeon, or to see the word Bobcaygeon on a map or a sign without hearing the Tragically Hip song in your head. On repeat. Even if you don't know all the words. Especially if you don't know all the words.
You're singing it right now, aren't you?
I get to Designated Travel Companion's (DTC) house early enough
(I got to your house this morning
Just a little after nine)
so we can have a leisurely drive to today's destination, Globus Theatre at Lakeview Arts Barn in Bobcaygeon. DTC and I have been on a few road trips together and so it shouldn't surprise me that we both:
a)    are wearing dresses
b)   with little sweaters brought along for later if it gets chilly
c)    and have a change of shoes to dress up in the evening
d)   with our matching travel rain coats rolled up just in case
(I left your house this morning
About a quarter after nine
Could have been the Willie Nelson)
NO.
I pull up the song on my phone and blast it as we pull away, thinking it might spare DTC the ordeal of hearing me sing it. Doesn't work. The drive is pretty, though.
Bobcaygeon is a community of 3500 on Pigeon Lake, in the Kawartha Lakes region, and about two hours northeast of Toronto. Historic Lock #32, the first built for the Trent-Severn Waterway, is smack in the middle of town. There is a single lane swing bridge over the canal; tourists sit on benches, eating ice cream and watching the boats go through the lock. While we look around, a single houseboat enters but the people piloting it seem a bit baffled. One of the lock attendants crouches down and offers encouragement until they get the engine going; everyone cheers from the sidelines. The scene makes a bit more sense when DTC and I spy a sign announcing Bobcaygeon as the Rental Houseboat Capital of Ontario. Ah, landlubbers. I wonder how many of those things are returned with long scratches running their lengths.
Wanting to get a sense of the place, DTC and I attempt to follow the Bobcaygeon Walking Tour I have downloaded. I can't make heads or tails of it because I'm a little directionally impaired and there isn't a map. It's kind of funny, too, as many of the 23 stops "used to be" something else, before burning down and being rebuilt. Never mind. I spy one of the stops across the street (which used to be a General Store before it burned down in 1913) and I can't help but notice the SHOE SALE! signs in the windows. As a footwear aficionado bent on recovery, I exercise the utmost restraint and keep on walking. I decide to congratulate myself with a salted caramel brownie from Kawartha Coffee Company. Baby steps.
There's a line-up almost out the door when we arrive, definitely a good sign.
Kawartha Coffee Company is a riot of colour, a proud peacock of a café on the main street. Multi-hued flags zigazg across the ceiling, vying for your eye with twinkly chandeliers; blackboard paint on the walls provides a background for doodles, curlicues and encouragements ("Smile. Enjoy Life. Eat good Food."). An identifying statement is drawn around a bubble mirror near the front window: "This is Who We Are: Seasonable Farm Fresh Local 100% Organic".
I like this place. I like these people. I get what they're doing.
The café carries coffees from Reunion Island, an especially eco-conscious small batch roaster in Oakville. One variety, Organic Sierra Verde, comes with a tree-planting initiative: two trees are planted in a developing coffee-producing country for every pound sold. Owner Kathleen Seymour says KCC is responsible for 25,000 of them.
Adding to the kaleidoscope are happy-making paintings for sale by Canada's very own Toller Cranston. If you are my generation or older, you remember watching him, transfixed as he skated his way to bronze at the 1976 Olympics. He's an accomplished artist, and the works that clad the walls attest to this. Kathleen tells me that her business partner was a skating contemporary of Toller's, hence the connection.
DTC and I, continuing on in our SuperBestFriendsTwin Day, both choose to have an iced Americano. Real espresso, pulled and poured over ice, no syrups or frothy ice-milk product added. Honest-to-goodness coffee that makes my heart skip a beat. Also? That salted caramel brownie sitting under a glass dome on the bar, mocking me? It is dense and chocolatey and gooey and a lovely balance of sweet and salty, and completely, utterly demonic. I am glad that DTC and I decide to share its sinfulness as we stroll along the main street to the toy store; if we'd sat at a table, I might have had to grab a couple more…as souvenirs.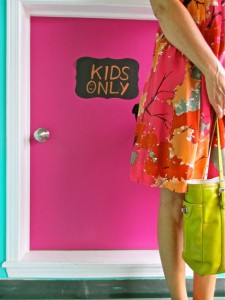 A few doors down, the window display draws us into Gigi's. Less than a year old, they offer thoughtful toys and games for children, and the adults who play with them. The good stuff, with recognizable names like Thomas the Tank Engine, Playmobil, Lego, and wooden toys from Melissa and Doug. Challenging board games, too. There's a giant chessboard set up inside the store and a kid-sized door that I would try if I wasn't wearing a dress.
It's now too drizzly to walk about
(Yeah, the sky was dull, and hypothetical
And falling one cloud at a time)
so we give up on the Bobcaygeon Walking Tour and hop in the car to poke around town instead. We pass the busy parking lot of the Kawartha Dairy factory; there's a corral for customers in front of the order window. The list of ice creams is long and daunting and, so as to not hold up the line, I spy a childhood favourite and pounce. My "small" Tiger Tail cone is as big as my head and manageable only with constant vigilance. DTC has a gigantic cone of her own, so there isn't much talking for a few minutes.
As the late afternoon sun continues sliding west (or so I imagine; haven't seen it for a while), we start driving out of town to Pigeon Lake Road.
(Drove back to town this morning
With working on my mind)
 Halfway along King Street East, I ask DTC to pull over. The eye-catching signage outside Douglas + Son grabs me. Vintage Goods? Antiques? It's calling my name.
What a great store. Carefully curated industrial objects and furniture, colourful maps, vintage letters and signage and lighting. They have their own line of t-shirts too. And an enormous mounted bison head, which I somehow fail to get a photo of.
(I thought of maybe quitting
I thought of leaving it behind)
Globus Theatre is the company in residence at the Lakeview Arts Barn (LAB), an old cattle barn that was converted to a dance hall in 1967. It's a social hub, where conferences, events and weddings also take place. There's a full kitchen to cater events from 40 to 400, and a table d'hôte dinner is offered before every evening performance.
I have a chance to speak to Sarah Quick ahead of time and I ask her if she's crazy. She laughs but doesn't answer. Sarah, with James Barrett, Artistic Director and Artistic Producer respectively, are Co-Founders of Globus Theatre, Co-Stars and Co-Parents of a 2 ½ year-old; they are also responsible for the new dinner menu launching this opening night.
I find James pulling a shift as bartender pre-show; he kindly offers to tour us through the theatre space and allows me to pepper him with questions.
Why here?
English Sarah met Canadian James on the international Fringe circuit. They decided to produce theatre in one spot rather than continue touring. James grew up a half hour from here.
Why is this show performed in the round?
It heightens everything for both actors and the audience. It's fun for the actors, who don't often get the opportunity to act in the round; but it's also fun for the audience, who feel like they are right in the middle of the action.
Are you two crazy?
He laughs but doesn't answer.
Instead, James tells me about Sarah's accomplishments as a playwright; her play Knickers! A Brief Comedy has recently been published by Playscripts, Inc. Last month's Do You Take This Man?, a "devastating and devastatingly funny" show that addressed topics like testicular cancer and euthanasia, was written by Sarah, starred Sarah, and was directed by James. Light-hearted summer theatre? "It's cathartic," he says. "You are laughing and crying within a minute." This season, their 11th, Globus is extending into the fall with a remount of their popular comedy Sunshine Express, also written by Sarah.
It's not quite 6pm, so we grab a stool at the well-stocked bar. The cocktail menu has fun offerings like Pimm's No. 1 which I haven't had since 1989. The Whisky Menu is extensive and impressive ("It's my thing," James tells me. "I'm allowed to buy three new ones each year.") and includes some names I recognize and this one I don't: Glengoygne (21 year old) which merits 4.5/5 stars on the review sites I check.
I also note that the wine list offers wine by the glass for $4.65. I refrain from asking him again if he's crazy, but I do remark on the bargain price. James says it's important they keep things affordable for their patrons. I guess. A table d'hôte dinner (three courses with three choices for each) with show is $59.50, even less for subscribers, which explains their growing numbers each season.
Eating at the LAB is fun. There is a sense of occasion. The servers glide smoothly in and out, checking tables, whisking away plates; there is happy chatter and the clinking of glasses from diners.
The food is great, too. My cream of asparagus soup is the ultimate comfort, warm and smooth and restorative after a day in the damp. Steak and ale pie, topped with a square of puff pastry and served with a side of al dente peas, is thick and rich and so filling I can't even contemplate dessert. But then the server sets the cheese board in front of me, stylishly served on slate and accompanied by green apple slices, crackers and spicy pecans and somehow I persevere.
Everything is expertly timed and we are ushered into the theatre, behind the black curtain running along one side of the dining room, just before 8pm.
The pre-show songs are cheeky foreshadowing: "Love the One You're With", "Love Shack", "Escape (The Pina Colada Song)". The show, The Long Weekend by prolific Canadian playwright Norm Foster, is an anti-romantic comedy and perfect summer theatre fare. Played gustily for laughs, the foursome also features Globus alumni Anna Black and Kevin M Sepaul. The audience eats it up.
As we file out of the theatre, James and Sarah are there to individually thank their patrons for attending this evening's performance. I confess, I'm completely smitten. I adore everything I've experienced at the LAB: the performance, Sarah and James' vision, the care for their audiences, love for their craft, and their dedication to putting on a helluva show. We leave happy. And humming.
(It was in Bobcaygeon, I saw the constellations
Reveal themselves one star at a time)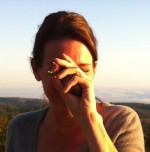 Anne Heathcote—writer, roadtripper, theatre lover—is counting her blessings in Prince Edward County.
---