Festival Players of Prince Edward County
The view literally stops me in my tracks.
A cadmium yellow glider towed into an endless cerulean sky. Below, a glint off scarlet metal roofs atop cedar shakes the shade of juniper. Colours so vivid, so basic, you could fill them in with just a Crayola 8 pack.
You have to understand —I've lived here for six years, been visiting for the better part of two decades, but this moment takes my breath away. Maybe it's the midday sun beating down or the sense of import in this historic site, but my head is spun and my body follows and it's like I'm seeing the place, really seeing it, for the first time.
——————————————–
This week's theatre trip takes me to Prince Edward County, known by the locals as "The County" (or, as it's spoken by same, "The Cowny"). It's an amalgamated municipality of 25,000 spread out over 1000 square kilometers on an island in southeastern Ontario. It has a long history as the first settlement for Loyalists, and has featured at various times as a provider of hops for American brewers, a launching point for rum runners and as a centre for canning fruits and vegetables for the better part of a century. Long appreciated for its beaches and birding, PEC has lately developed a reputation as a must-see for foodies, winemakers and oenophiles, and artists.
This week also poses a bit of a challenge for a travel writer: to see one's own backyard with fresh eyes while, at the same time, offering an insider's knowledge of the place.
——————————————–
It's sneaking up on the dinner hour as Designated Travel Companion (DTC) and I take a short hop down Loyalist Parkway to Rosehall Run, at the bottom of Greer Road. The vineyard was first planted in 2001; under the watchful eye of winemaker Dan Sullivan, Rosehall Run is home to some of the County's finest offerings.
The tasting room is housed in the same barn where large oak barrels used to turn grapes into wine. It's a warm and inviting room, full of gleaming surfaces and reclaimed wood, with the easy elegance that permeates the area.
We belly up to the tasting bar and Katie hands us each a glass of 2011 Pinot Noir JCR, the bright garnet-coloured wine catching the late afternoon light when I hold it up to inspect. It's gorgeous, with hints of tart cherries and supple tannins and is the kind of pinot that Prince Edward County has developed a reputation for. This wine also won gold at the 2014 All Canadian Wine Championships.
It's the chardonnay that surprises me, however. I was an ABC girl back in the day, but this 2011 Chardonnay JCR Rosehall Vineyard, with a minerality typical of the terroir, wins me over. DTC and I grab a bottle of each (for research purposes, of course) and head over to the food truck for a quick bite before the show.
New to the County this summer is Picnic PEC. Rebecca and Trish have created the consummate food truck for locavores. With a focus on "healthy, local, gourmet", they offer freshly-made sandwiches, salads and juices. They also do this peanut butter pie in a mason jar and, look, just get one, okay?
The food truck has regular stops at select wineries and Barley Days Brewery; they offer drink pairings with their menu. Follow that truck online so you can follow that truck in real life.
My banh mi ("The best vegetarian banh mi in the County!" laughs Rebecca) is baked tofu loaded with slaw and cilantro, and drizzled with spicy sriracha mayo on a perfectly chewy baguette. DTC chooses a sandwich made with Seed to Sausage Hunters salami, Black River cheddar and Cressy mustard. I make DTC give me a bite of his sandwich (again, strictly for research purposes) and as I chew, it dawns on me: this moment encapsulates the magic of summer. The alchemy of easy conversation, beautiful food paired with beautiful wine, at a picnic table looking down rows of grapevines, peerless skies overhead. I am deeply contented and we haven't even moved onto the main event.
As we stroll to the big top, it's nice to see so many familiar faces milling about, chatting. But there is one familiar face that is a little out of context for me. It takes me a second to place Jeremy Smith, AD of Driftwood Theatre, who I had the pleasure of interviewing way back at the beginning of July. It's the troupe's cottage week, when they set up camp at Jeremy's family's place near the entrance to the famed Sandbanks Provincial Park, and perform at venues within a short drive. Driftwood's in Madoc tonight but Jeremy has stolen away to catch the show
Sarah Phillips, Artistic Director of Festival Players of Prince Edward County for seven of its eight years, has just been welcomed to the stage with hoots and hollers, which she shamelessly encourages for a moment or two. Then, with a smile, she warns, "This is an opening night unlike any other opening night you have attended." In an exquisite example of 'the show must go on', the lead actor was replaced a mere six days ago. Sarah suggests there may be some "mild creative improvisation but we'll be fine." The audience is onside and we are ready to laugh.
Test Drive, by Dave Carley, is the story of Earl Hughes, a man who "loves his wife, children and cars – and not always in that order." In the lead, Douglas E. Hughes is a marvel. Even if you discount the fact that the man has had a week with the script, and the requisite nerves of steel that come with, his performance is well-rounded, honest and funny, an absolute delight
The two other actors in the trio, Andrew Perun and Alyson Smith, are no slouches either; they inhabit the many characters that populate Earl's story, with little more than a slight wardrobe alteration to signal the change. It's done to great comic effect, culminating in a particularly delicious scene where three actors play five roles, all bunched into the tight confines of the bomb shelter. The audience is helpless with laughter as Andrew rapidly rotates his baseball cap forwards and backwards between characters in a dizzying choreography. I spy one woman literally holding herself tight as she guffaws, maybe fearful that 'sidesplitting laughter' is a real thing. Sarah's direction is outstanding; each vignette of Earl's life, strung alongside the next, builds beautifully to a moving and immensely satisfying conclusion. The audience stays on its feet, clapping passionately, long after the actors have left the stage.
A quick deke back to the tasting room for the Opening Night Reception to say a few hellos. The Hubb at Angeline's, a groovy eatery and lounge in Bloomfield, is catering the event with their usual panache. I spy an oyster bar set up in the back, meet Dan who is shucking, and catch up with Krista Dalby. This season, she's Stage Manager for All For Beaver Hats!, the Young Company's production that comprises the Festival Players for Families series. This comedic and musical romp about the fur trade performs at a variety of outdoor venues around the County, and it sounds like a hoot. I promise to bring my kid.
——————————————–
The next morning I am off to take in a few sights like a tourist. I zigzag along back roads with my camera at the ready. This summer, my eye has been drawn to long vistas with big skies and I am rewarded at almost every turn. Amber wheat fields awaiting the combine or sprouting green ones already visited, their tight bundles dotting the field; symmetrical rows of rustling corn stalks, tall and stretching to the tree line; a lake view that dissolves into the horizon.
First stop in Bloomfield is an antique store whose sign you may have seen recently making the rounds on the internet. Owner Sue Hierlihy tells me that the name came out of a catch-up conversation with a friend who asked her if she was "still selling that dead people's stuff?". The sign earns a slow down and turn around for the new and uninitiated.
What began as a weekend pastime out of their trunk at antique shows turned into the Dead People's Stuff store eight years ago; like many others here, Sue and her husband Terry (of "Sue's Husband Terry" handyman fame) chose to reinvent themselves with a move to the County. The place is hopping when I arrive at the converted drive shed. The collection focuses on items for cottage and country, reflecting a laidback attitude. It's an eclectic mix, with china tea cups and crystal alongside old radios and vintage kettles. The Mantiques room reminds me of my Grandpa's work bench; nostalgic finds.
A little further along Main Street is a clutch of charming shops. My favourite is KOKITO, a store that focuses on "Canadian design and lakeside living"; the name is a play on the postal code around Consecon Lake (K0K 1T0). Co-owner Shelley Durnin confesses that while most products are made in Canada, many right in Prince Edward County, she sometimes gets distracted by especially beautiful objects from around the world.
KOKITO is home to exclusive items like locally-made cushions, napkins and shoulder bags from Lakehouse Linens PEC. The line showcases clean design with flair; it's functional and beautiful, well-constructed and comfortable, like everything in the store. You see Toronto-made Wildhagen hats on smart heads in the County. The MacAusland's handcrafted virgin wool blanketsare so popular, KOKITO struggles to keep them in stock, even in the thick of the August heat.
It's a gorgeous space, full of light and a carefully curated collection of goods to beautify your home (or that of your favourite travel blogger)(hint). And KOKITO's Twitter feed gives you a great feel for what's happening locally, too.
One must-do, in this former 'Garden Capital of Canada", is a trip to the farm stand. There are many celebrated markets in the County, but there's something about Vangrootheest Farm that appeals to me. It's a no-fuss kind of place, just off the main drag in Bloomfield. Today, it's an embarrassment of riches: yellow and green beans, peas, shiny purple onions with the scape still attached, big fat field tomatoes, two kinds of corn, and buckets of gladioli. I leave, as usual, with groaning shopping bags, my wallet only a little lighter.
At the suggestion of Julianne Snepsts, GM of Festival Players, I head over to see their production workshop at Loch-Sloy Business Park, up on the heights in Picton. This location was formerly Camp Picton, an RCAF base and, before that, a RAF Bombing and Gunnery School. It is now home to a diverse group of businesses including a commercial fishery, artists' studios, auto mechanics, a flying school, and even the Canadian Opera Company's storage facility.
I can't even begin to tell you everything I learn while being guided around by Properties Manager, Jacqui Burley. (She offers tours for history buffs and photographers. Call her at 613.476.3064 to arrange. A highly recommended off-the-beaten-path kind of thing.) As we zip around in her well-travelled convertible VW, she shares riveting details about the site, built in 1940 to train British pilots. But it's the personal stories that give a peek into why Loch-Sloy tackles the daunting and unsexy job of preserving—literally— an important part of our history.
Jacqui tells me about the elderly Dutch gentleman who arrived, weeping, on her doorstep. As a boy, his front line family home was saved by Canadian soldiers, like the ones who were trained at this facility, in WWII. His gratitude still keenly felt decades later.
The restoration work continues steadily. Two of the original 45 buildings have been lost, slumped forlornly as a reminder of what will happen if the others aren't rehabilitated. Mid-sentence, Jacqui stoops to pick up an errant nail from the sidewalk; her deep love and respect for the place is obvious.
As I stand there, the buzz of another glider being tugged up into the sky fills my ears and I get it. The visual onslaught of primary colours, the sharp angles of rooflines and subtle shading of worn cedar shingles, the interplay of light and shadow, of decay and resurrection, buildings subject to merciless winter winds and an unforgiving sun. This is hallowed ground I'm standing on. Sometimes we forget, while hustling off to a committee meeting or rehearsal or the next art opening, that we live in an area of exceptional beauty. Today I remember.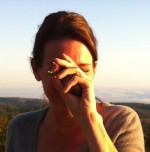 Anne Heathcote—writer, roadtripper, theatre lover—is counting her blessings in Prince Edward County.
---