Blyth Festival, Blyth
I think I could spend a week in Huron County and still not see everything. Suspecting this, Joan Karstens, owner of Brentwood on the Beach, had encouraged me to come earlier when I was making arrangements for my visit. It wasn't possible, but the drive across the top of Toronto goes unbelievably well, so I console myself that I have at least a few extra hours.
When I walk into the house (the instructions on the door read: "Ring the bell. Walk in. Call out hello.") Joan greets me with a hug, like an old friend. Even though Brentwood is listed as a Bed and Breakfast, it's not like any B&B I've ever stayed at. The place is more like a small luxury resort than somebody's extra bedroom over the garage that they let out during the summer.
Located on a quiet cul-de-sac directly on the shores of Lake Huron, Brentwood is a 10,000 ft2 home with nine bedrooms, several lounges, a dining area, a meeting area, a saltwater pool, whirlpool and infrared sauna. There is a fully equipped guest kitchen and an outdoor covered BBQ area should you decide to take food matters into your own hands. There are also two self-contained cottages just down the road.
I'm in the Beach Room. Get this: king-sized bed, fireplace, TV with DVD, Jacuzzi tub big enough for me and three friends, lake view.
The shoes come off pretty quickly.
Joan sets me up with a hot lunch and goes back to greet the two other parties who arrive moments after me. I am seated in the screened-in veranda adjacent to the pool and overlooking the lake, a perfectly manicured yard in-between.
It takes a special kind of person to welcome strangers into their home, and I can see why Joan is so good at it. Over homemade rhubarb and custard pie (Oh. My. God.) and coffee, she tells me she's been running Brentwood for 25 years. She loves to take care of people, and it truly delights her to offer them a place to unwind. Quite sure this is why she enjoys an 80% return rate with her guests.
Joan also likes to connect people: "I'm a social media person who doesn't do much on the computer," she laughs. She's been hosting specialty weekends for more than two decades, like spa retreats, painting, quilting, author readings. She's particularly excited about her Breakfast with the Stars weekend, where guests enjoy dinner and a show on Saturday night and then brunch the next morning with some of the actors.
When Peter, Joan's partner in life and in business, walks by with a bucket, I ask him if he's on lawn maintenance. "I'm on everything maintenance," he smiles beneath his bottlebrush moustache. He nudges her to tell me about winning the Governor General's History Award for Excellence in Community Programming as part of the St. Joseph & Area Historical Society (for a play about Narcisse Cantin, the "Father of the St. Lawrence Seaway", who lived in the nearby town of St. Joseph). The play was held "behind the church up the highway" with hay bales and a cast of 55 and 100 volunteers. Mission accomplished, Peter takes the bucket back outside and announces that he remembers why he came along in the first place. He plucks a single weed out of a nearby bed and walks off.
The grounds of the B&B are stunning. Perched about 60 steps up from Lake Huron, it's an easy walk down to the water. A sandy beach invites sunbathing and shelling, but I am in my "travel in all black because everything matches" mode so I take refuge from the midday sun in a Muskoka chair under a willow tree. To my left, a guest naps in a gently swaying hammock; to the right, staff members of Huron County are having a meeting under a pergola. It's a quiet beach with big open skies and a pleasant breeze; I put my toes in sand and breathe for a bit.
Back up top, there are extensive gardens with graceful statuary, water features and walkways. I compliment Peter on its beauty and the "moments"—as a landscaper/artist friend of mine calls them—little nooks where one can pause and take in the surroundings, find peace, daydream. Peter walks by me later, pointing out another "moment", gently teasing.
Walking barefoot around Brentwood on the Beach, I feel like I've won the accommodations lottery.
The drive to Blyth is a pretty one. The earth flattens for a while and I travel past cornfields that stretch out into endless blue. I lose the CBC but find NPR on the radio and listen to All Things Considered as I pass yellow and green signs offering SWEET CORN every few kilometers. The cornfields give over to soybeans and I'm into Blyth in no time.
Today is Monday, a day that is usually dark by theatrical conventions. It works with my schedule and I don't think twice about it until I arrive in town around 5pm. With the exception of the theatre's box office and the café across the street, everything else seems to be shut tight. Hmmm. Turns out, the shopkeepers rightfully keep in rhythm with the 40-year-old theatre company that brings in 40-50,000 visitors annually.
I pick up my ticket and take a look at the rack of brochures in the lobby, trying to plan the next few hours until curtain. I am rescued by a friendly call from behind the desk, "Do you need help?". That voice turns out to be my salvation.
The vibrant young woman behind the computer is Nathanya, a second year Drama student at University of Windsor, and just about finished her summer job here. She is a font of knowledge about the Festival, the company, and what goes down in Blyth when the theatre is usually dark and everything is closed.
"There are two big things in Blyth—the Festival and the rutabaga farm, down the end of Dinsley Street." Pretty sure she's teasing.
Nathanya tells me about her stint a few years back with the Young Company which the Blyth Festival offers each summer for young people aged 13 – 19, for free. Working with theatre professionals, these aspiring actors write and perform a show. During her time there, the Young Company created an updated version of the famed Farm Show, the play that launched Blyth Festival four decades ago.
"We sang a song about rutabagas to the tune of "Somebody That I Used to Know."
"What rhymes with rutabaga?" I ask.
"Nothing!" and she breaks out in song to demonstrate that "rutabaga" was used on the non-rhyming lines.
This season, the Young Company is performing Out of This World August 27-30 at Phillips Studio, just across the street from the main theatre space.
I take a quick drive about the town and see many carefully tended vegetable gardens. Blyth is the kind of place where the houses are tidy and the trucks are dirty. I see a sign for Watson's Hog Assemblers and I don't know what that is and I'm not going to ask, either.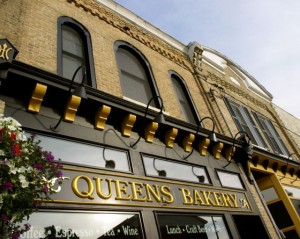 I am grateful Queen's Bakery is open. I feel instantly at home the moment I walk in. This heritage building has been thoughtfully restored: original brick walls, pressed tin panels on impossibly high ceilings. There are lovely touches, like handmade ceramic coffee cups embossed with QB and made "just down the road", a blackboard menu, fresh cut flowers on every table, and baked goods stacked high in cake domes along the top of the dairy case.
Late afternoon sun fills the room making us all look prettier. My pint of lager, golden and sweating, catches the light and beckons. My Reuben sandwich is over-stuffed comfort food at its best, served simply beside the sweetly-dressed broccoli salad, just like Mom makes
Owner Anne Elliott stops by my table and I ask her how she's finding café life, now that Queen's Bakery is nearly two years old. She laughs and tells me how she and her three friends had originally decided to open a simple dessert and coffee shop. As they worked, they'd put on a pot of soup to feed themselves; soon, the customers wanted some of that soup. Then the customers suggested that a sandwich to go with that soup would be a really good idea. Then two sandwiches, maybe a couple of salads. The coffee shop is now a fully-licensed rocking little café offering espresso-based drinks and a simple selection of homemade items. Anne proudly tells me that they know every ingredient in every food item they offer, and buy from local producers (like Blyth Farm Cheese and North Huron Mushrooms) as often as possible.
The schedule for the café has evolved much in the same way as the menu—based on customer demand. As a commitment to servicing the patrons of Blyth Festival, Queen's Bakery stays open later to give people a place to come after the show, to discuss what they've just experienced. The website cheerfully posts their hours: "7:00 am 'till the busy streets of Blyth quiet for the evening. Open AFTER all Festival Theatre Shows.
As I cross back to the theatre, I make friends with a young local man. He tells me he volunteers frequently at the festival, running the elevator, and has seen all the shows. I ask him which play he likes best and he exclaims enthusiastically, "This one!".
And the play? St. Anne's Reel by Gil Garratt. Oh my heart.
The set is a thing of beauty. We are in the ramshackle kitchen of an old farmhouse, peeling wallpaper, the lath showing beneath crumbling plaster. Through the windows and door we spy a silhouette of corn stalks, an evening sky taking colour, deepening as the house lights fade and the cricket song swells. Then darkness, then silence, then lights up on an old man seated in a well-worn recliner.
Silence. Long, long, long silence. All eyes are on the man in the chair, transfixed as a struggle of emotions plays across his face. Minutes pass, and he finally resolves to action and rises from his seat; a slow, broken shuffle across the full width of the stage to the object on the table. The tension is unbearable, the sorrow palpable. Many more minutes pass and my eyes well up and not a single word has been spoken.
At the heart of this story is an emotional dance between a grieving father and his prodigal son. The father is a former professional fiddle player, and the son, a "washed-up Dollywood rhinestone cowboy". Here, music is memory, winding its way through the play, wordlessly connecting father to son, to their shared, rueful past.
The performances by David Fox and J.D. Nicholsen are deeply moving. Despite the heaviness of the subject matter, there are moments of great humour. Warm laughs of recognition rise from the audience, as father and son fall into the rhythm of every dysfunctional family argument ever. There is also extended physical comedy with an ironing board that starts off funny then goes on long enough to become a little uncomfortable then lulls you back into laughing before taking you out at the knees
I love this about the direction of the play. The pacing is gentle yet insistent. The silences are allowed to build until the air is thick with tension. Nothing is rushed; everything takes exactly as long as it should.
The play ends on a hopeful note and I am shattered and exhilarated. I spy director Marion de Vries in the aisle and I impulsively grab her hand and gush that this was one of the most beautiful pieces of theatre I have ever seen. She is maybe taken aback by my fervour but smiles and thanks me nonetheless.
Go see this play. Do it. Drop everything and do everything you need to do to see it before it closes on September 6th. I've no doubt this outstanding work will be remounted many times for many years to come, but try to see this one. These performances, this production, in this setting, will stop your heart and leave you reeling for days.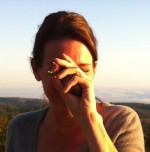 Anne Heathcote—writer, roadtripper, theatre lover—is counting her blessings in Prince Edward County.
---