Highlands Summer Festival, Haliburton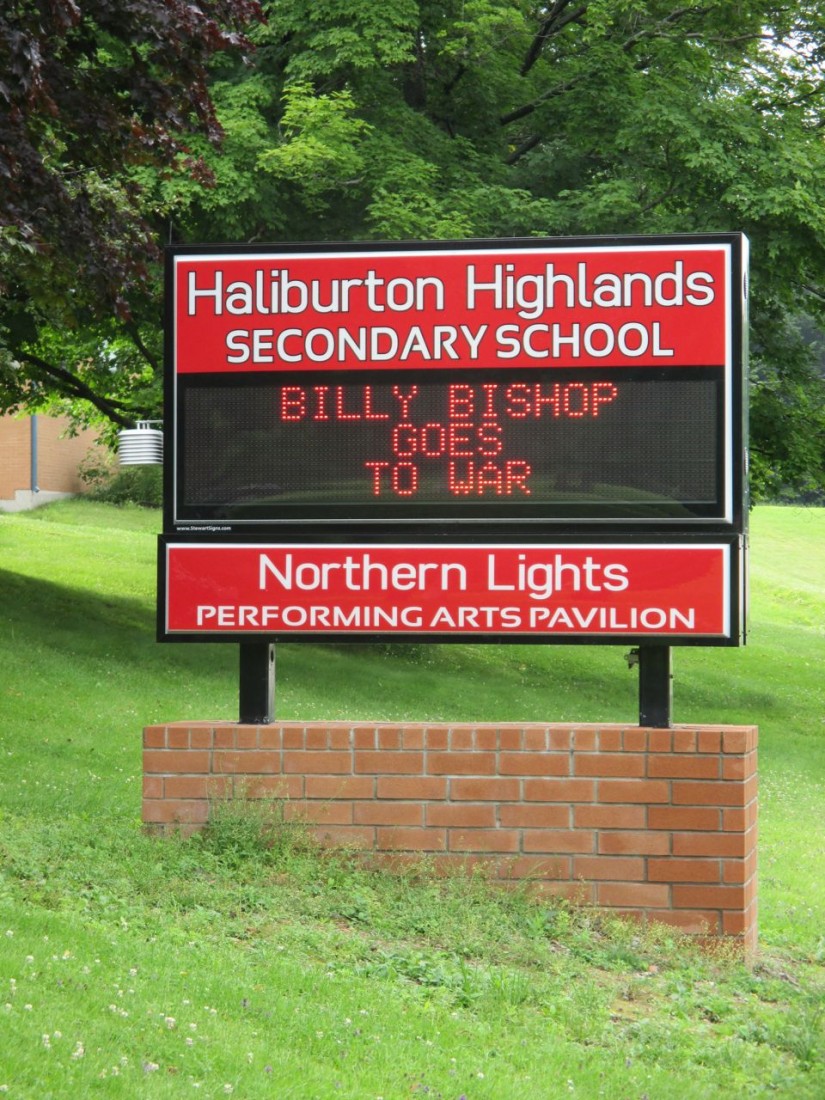 My theatre weekend in cottage country requires a nighttime drive to our accommodations, Bala to Haliburton. Double lane double line blacktop, the yellow ribbon unspooling before our headlights, the road weaving in and out of dark forest, up and down small rises. It's the kind of drive where you can't keep your high beams on for very long; though the night sky presses inky isolation, this road is a busy one.
We pass evocative place names like Caribou Lodge and Bird Lake Road and Swamp Lake. I see signs for Santa's Village in Bracebridge and flash back to a July many years ago that included a swan ride and horse flies and feeling bad for Santa in his velvet suit in the 35 degree heat and stepping in something that Dad made me scrape off the sole of my shoe on the miniature train tracks before I could get back into the car.
DTC, who keeps his directional bearings based on the position of the sun plus some innate skill I lack, is somewhat hampered by the darkness and the twisty-turny nature of the highway we are travelling. Dear Millicent, my Google Maps muse, coaxes us along efficiently until we come to a turnoff where she points us away from the "Haliburton 24km" sign. I take a peek at the screen and see that Millicent is saving us four minutes with this route. Sure, okay, no problem.
However.
Our smooth, simple, busy two-lane highway gives way to a one-and-a-half lane (at best) bumptacular back country road. Winding and wending its way around outcroppings, past quiet, darkened cottages. Somehow we keep coming to intersections where we have to make right turns to stay on the road we are following instead of, you know, going straight. We do make our way to Pinestone Resort eventually, though I think that "saving us four minutes" is a load of bunk given our reduced speed so as to not careen off the road in places.
Pinestone Resort & Conference Centre, Spa and Golf Course  is the largest full-service hotel in Haliburton; it's quite a spread and appears to be hosting at least one wedding this evening. In the lobby, I grab a few tourist brochures and the local newspaper, and make tentative plans to attend the famed Haliburton Sculpture Forest in the morning.
After checking in, DTC and I  meet in the hotel bar for a nightcap and a recap. We chat with the bartender and tell her about our drive, how my GPS directed us off the main road. Her eyes widen and she whistles, low. "The Blairhampton Triangle is a bit of a legend around here," she says. She suggests we stick to the highway tomorrow. "You got lucky tonight. You might not get out a second time."
I suddenly feel like I'm in a Scooby Doo Mystery.
That feeling returns a little later when I can't find the off switch for the exterior balcony light. Ren, the night manager, is polite and cheerful and vaguely reminiscent of Vincent Price. He explains that the light is on a timer to which I don't have access, and then efficiently unscrews the bulb for me, problem solved. I am grateful, but the whole time I half expect him to whip off his mask and accuse me of being one of those meddling kids.
The walls of my room are finished in pine, as you'd expect, and adorned with illustrations of golfers and wildlife. I sink into quite possibly the most comfortable bed I have ever met and am instantly out.
The next morning, this veteran road tripper unpacks her Coffee Snob Travel Kit®: an Aeropress and some direct trade organic beans, hand ground on my portable burr grinder. I take my little cup of heaven and sit on the balcony overlooking the manmade lake out front of the resort. It's another grey day, a soft mist falling.
It's too soggy for a forest walk, so we head into town, passing a parade of ATVs, the drivers appropriately attired for the weather. Head Lake Park, on the shores of Head Lake, natch, offers a playground and picnic area, even a disc golf course, and is part of an extensive waterfront trail. There are pretty views, even in the drizzle.
A looksee at the nearby tourist info caboose reveals the extent of hardcore outdoor activities in the area. The two biggest snowmobile clubs combined provide over 900km of trails in the surrounding forest. The Canadian National Pond Hockey Championships take place here every year (1600 players, 260 teams). And those ATV riders we saw? If they're part of the Haliburton club, they have access to over 1700km of trails.
Also in the town's centre is the splendid Rails End Gallery, located in the old train station. Only the original wood floors and the industrial weight scale hint at the locale's original use. The public art gallery also looks like it might be the unofficial info booth for the local arts community; the events bulletin board and table beneath overflow with offerings. It's a pleasant place to pass the time, but we can't linger.
Ken Loney, General Manager of Highlands Summer Festival (HSF) has arranged to meet us outside of McKecks Tap & Grill. His email jokes: "I'll be the guy with gray hair and short beard (yeah, I know, that describes most of the male population in Haliburton)". McKecks was opened by Walt McKechnie following his retirement from the NHL. It's a big room, bright and abuzz with Sunday brunchers. My Blue Line burger, topped with grilled onions and blue cheese, is decadent and delicious and three-napkins on the messy scale. I savour every bite.
Ken explains that the Haliburton Highlands is a creative hot pot, attracting artists of all ilk. Off the top of his head, he counts three concert bands, three Celtic fiddle bands, two Dixieland bands and a chamber orchestra—not even counting the five piece cello choir that performed at a recent open stage event. The year-round population of 6000 triples in the summer, a high percentage of whom are professional creatives from Toronto. With them, they bring a wealth of experience and a keen desire to support each others' ventures. The Fleming College campus is home to the renown Haliburton School of the Arts, which sees 3000 students in 300 classes over the course of the summer.
This place is cooking.
Ken proudly tells us that HSF survives on ticket and sponsorship revenue only, filling shows at 75% capacity. They must surely be the envy of their counterparts everywhere. So how do they do it, especially with only a six week season? By being really smart.
HSF produces three plays each season on an eight-night run, split over two weeks. They buy a couple of shows from Toronto for three performances in between, and keep Saturday nights dark. This last detail, of course, completely flies in the face of current theatrical convention, but the wise folks behind the festival realized that, in cottage country, Fridays and Saturdays are changeover days for renters, and locals have company for the weekend. Nobody wants to get out of their bathing suits and get dressed for the theatre. So HSF adapted.
And of course, none of this would matter if they didn't select and mount great shows. Today's offering, Billy Bishop Goes To War is "one of the most popular and oft-produced theatrical works in Canada's history". This production, starring Dean Hollin with accompanist Michael Mulrooney, was directed by Ken McDougall and enjoyed a mini-tour around Ontario last year.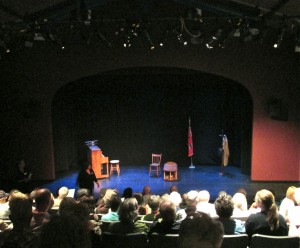 As we enter the Northern Lights Performing Arts Pavilion in the local high school, I am struck: this is the perfect venue for summer theatre. The stage is a good size without being ostentatious and the steeply raked seats for 226 provide excellent sightlines throughout. I am wowed when I peek in the control room: the latest lighting and sound systems (a 24 channel sound board!) and Ken points out the infrared camera so the technician can see what's happening onstage when it's dark. There are even plans afoot to add an audio assist in the next year. You would never guess it was a repurposed gymnasium.
It's very near a sellout on this wet Sunday afternoon and there's an animated buzz from the audience. The simple set is black backdrop, the furnishings—piano, chair, coffee table, coat rack—neutral in shades of brown save the red spot of colour provided by the Canadian Red Ensign flag. We open with a song about the excitement of going off to fight the Hun and then Dean Hollin struts and frets and dances around the stage, effortlessly slipping from one to another of 18 different characters. The direction is endlessly inventive: the chair becomes the airplane of Billy's first solo flight; the coffee table, another plane, another flight; the chair placed on top of the coffee table creates the airplane at the centre of a tense vignette. Dean's is a dazzling performance in a quintessentially Canadian play, a beautiful blend of humour and pathos and song, in equal measure. The crowd leaps to its feet, applauding long after the actors have taken their bows.
Following this performance, there is a Curtain Talk, sponsored by TD Waterhouse. Begun last year, this informal offering gives the audience an opportunity to ask questions of the people essential to the production. It is wildly successful, with about a third of the audience staying afterwards. Today, it's Dean and Michael, and although I am sorely tempted to stay and hear more, it's a long drive home and I'd best get at it. But I leave town sure that I want to come back when I have time to stretch out for a few days and take in the sites and activities and art. This sample was entirely too brief.
It is closing in on the dinner hour as we approach Bancroft from the southwest and I get onto tripadvisor to look for dining options. Numbers one and two sound a little fussy for my mood, but number three, The Craftsman Restaurant appeals. Just as I'm digging into the reviews, I look up and see the sign on our left; DTC's cat-like reflexes screech us into the parking lot at the last moment. The place looks like somebody's bungalow with a well-tended garden out front; only the vintage sign and the line-up of cars give a hint that this is a restaurant. But when I open the door, it looks exactly like I'd hoped: a throwback to another era, homey and inviting, comfortable as a linen shirt on a humid summer late afternoon.
First opened in 1955, current owners Jim and Ramona have retained the spirit of the restaurant by decorating in old tools and antiques, and offering unabashed comfort food. We slide into a red vinyl booth and immediately zero in on the hot turkey sandwich. It arrives on white bread with the crusts properly cut off, mashed potatoes, carrots and homemade coleslaw. It is everything you want it to be; it is tired traveler nirvana with gravy on top. We just miss out on the rice pudding but Janet asks us if we want pie instead and of course we do. As I lift that first forkful of sunny lemon meringue to my mouth, the skies clear for the first time this entire weekend. Somewhere a choir of angels holds a sustained note and I dive in, unrepentant.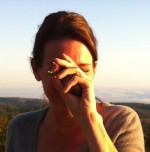 Anne Heathcote—a writer, roadtripper and theatre lover—is counting her blessings in Prince Edward County.
---