Driftwood Theatre Group, Bard's Bus Tour
I had a moment of panic when I realized that I'd scheduled myself for three outdoor evening performances in a row. All that outside-ness, all that exposure to the elements. All those mosquitoes.
I'll freely admit that I am a mosquito magnet. We all know one; that person to whom the little peskies are inexplicably, inexorably drawn. The person everyone wants to be friends with because, consequently, everyone in their orbit remains bite-free. Well, I am that one. The Chosen One. The Itchy.
When I visited 4th Line Theatre the other week, I thought I was a goner. The moment I climbed into the car to start the road trip to Millbrook, I was bitten by a mosquito—an omen. However, that prediction was a nonstarter. Not only did I not see another little blighter for the remainder of the day, I didn't even think about them again save for admiring the acrobatics of the swallows who were feasting on same.
So when I have the chance to speak to Jeremy Smith, Founding Artistic Director and General Manager of Driftwood Theatre Group, in advance of the preview, I ask him: "What advice can you give to people attending their first outdoor performance?". He says, "We encourage all audience members to come prepared for being outdoors at sunset!", meaning blankets, warm clothing, picnics, lawn chairs.
I hear "MOSQUITOES!!!".
Turns out my fears are unfounded.
I could guess that it's the new bug repellent I've purchased and soaked in, or maybe my chemistry has changed and I'm no longer in with the insects, but both theories are debunked when I sit out with friends the following evening and am descended upon. The truth is, for the duration of  The Tempest, I don't swat. I don't see anyone in the audience swat. I don't even see the actors swat. Is it possible that the world of the theatre conjures up such magic that keeps them at bay?
Or maybe it was the garlic. Does it work like that, like with vampires?
Lunch, you see, was a feast and heavy on the allium sativum. My Designated Travel Companion (DTC) for this trip is an ex-Torontonian like myself, relocated to small-town Ontario. And while we are grateful for the quality of lifestyle we are afforded in our little slice of rural heaven, sometimes you need supplies you can only get in the Big Smoke; like kaffir lime leaves and fermented soy bean paste and the good peanut oil. So any trip to the city must necessarily include a stop at an international grocery store to stock up on supplies, and a good meal at an ethnic restaurant to stock up on tastes. DTC hasn't been to the Pacific Mall in Markham, which claims to be the largest Chinese indoor shopping mall in North America, so we decide to head there. After lunch.
We steer directly to the Hakka Chinese cuisine of Federick Restaurant, just north of Steeles at Markham Rd. I know the older location on Ellesmere, long a favourite within my circle of friends. This new place is elegant and pretty, with dark wood and bamboo growing in pots and red shaded chandeliers, but with the same easy vibe, speedy service and delicious food that keeps us coming back year after year. And cheap. Did I mention cheap?
The lunch special menu (11am-3pm) lists 26 items (A to Z) that can be yours for $5.75 each. Overwhelmed by choice and our need to hustle, I ask our waiter to suggest three dishes to share. It's loud in the restaurant; I can barely hear him; we decide to trust him. The pitchers of water and green tea arrive immediately. The first plate of food shows up within five minutes. I barely have time to make notes.
The chicken is moist and with just enough heat to make my lips burn pleasantly. The noodle dish, bright red and smoky, is studded with chicken, bok choy and broccoli; an unexpected and sensational combination of flavours. The green beans that follow are shiny, still crunchy, and liberally doused with garlic. Not a single one gets left behind, even though we are stuffed.
Promptly at 2:59 pm, a server removes the lunch special displays from the tables. This place is efficient.
When the waiter arrives with our bill (three dishes + drinks + tax < $20), I ask him for the names of the dishes we have just eaten.
"Chili Chicken," he says. I scribble this down.
"Manchurian Chow Mein." Ditto.
"Green beans."
"What kind of green beans?" I ask.
"Just green beans." Okay.
(I look it up later. They are Kan Shue Green Beans and they are amazing. They also keep people—and possibly mosquitoes—at arm's length for the rest of the day.)
Happily sated, we lumber onwards to Pacific Mall. As we sit in bumper-to-bumper traffic on Steeles in the mid-afternoon, we realise that, even though we've dined in record time, time is tight. We can hit only one store, so I choose Grand Fortune Food Mart, the one I used to frequent when I was a big city girl. It's not the largest or the shiniest of the markets in this ever-expanding Asian neighbourhood, but the place is friendly and not too too busy. The 30,000 square feet houses rows and rows of perfectly placed product, cans and jars stacked neatly, every shelf filled to capacity.
My shopping list is a little dull, so in addition to ginger and daikon, I grab dinosaur plums, mangosteens and rambutan. In the extensive seafood section, two ladies see me snapping photos and point out a gigantic severed fish head nestled in shaved ice. They laugh at my astonishment. "It's bigger than MY head!" I tell them. More giggles.
I fail to take a photo of the fish head.
Opting to avoid the DVP and instead crawl down Don Mills Rd. through East York to catch Pottery Road to Todmorden Mills (still with me?), DTC remembers a favourite bakery along the way. Despite my fear that this travel blog is turning into a food diary, we need caffeine darn it, (and, apparently, baklava) to shake the postprandial stupor we find ourselves in. Select Bakery, a longtime fixture just outside the boundaries of Greektown, still has fresh bread and piles of desserts, sticky with honey, this late in the day. While DTC loads up, I delicately demur. That might be a lie.
We arrive at Todmorden Mills Heritage Site, the venue for this evening's performance of The Tempest. Even though it's easily accessible, between Broadview Ave. and the Bayview Extension, and is a "green oasis within a major urban centre" according to the brochure, neither DTC nor I have ever been. It's a lovely spot in a 9.2 hectare wildflower preserve, and provides a much-needed respite from our day in traffic. We gratefully alight the car, stretch, and start looking for the stage.
For the first few seasons, Driftwood was based out of the Durham region, where Jeremy grew up. As they "grew older and bolder", they decided to push the boundaries a little. They headed east as far as Kingston, seeking places where access to professional theatre was spotty at best. Now in its 20th season, Driftwood is sought out by towns as much as they seek them out, continuing to expand its reach year after year; this current tour sees them into more than 25 communities in Ontario.
The Artistic Director stresses that, at the heart of Driftwood Theatre Group, is the idea that "great theatre is only of value if an audience has access to it." It's why all performances of the Bard's Bus Tour operate on a Pay What You Can basis. There's a suggested minimum offering of $20, and the reserved seats (or blankets, if you prefer) cost $22-24 when you book ahead online.
When I ask him about what makes a perfect venue for the touring company, Jeremy tells me that Driftwood can settle in almost anywhere. "We perform in venues ranging from wonderfully quaint heritage sites to modern urban squares. For us, a great venue is defined by its audience." This evening, the audience is a little on the small side due to unforeseen problems; the kind of thing they can't plan for but have to deal with as a touring company in a new venue almost every night.
Earlier, potential audience members had been warned via Facebook that a belching, gas-fuelled generator had wreaked havoc on Driftwood's dress rehearsal.  The monster, a mere 30′ from the stage, now sits silently. The electricians, who had been relying on it to power repairs to a nearby fire-damaged building, did finish their work before showtime. But it means that the preview audience is sparser than usual. No matter. Susan Green, Front of House Manager, helpfully sets up our chairs right near the stage, in the reserved section, demarcated by yellow tape. I notice there are snacks and bug spray for purchase at the concession stand, and chairs and blankets can be rented if you don't want to bring your own.
And anyway, the audience quietly grows in size as the performance continues. Every time, it's the same sequence of events: people out for a stroll in the park, with their kids, with their dogs, stumble unawares upon the scene. They stop, surprised and delighted, and are immediately engaged. They stand and watch for a few minutes or take a seat in the grass, and let the spectacle and the Shakespeare wash over them.
Originally employing a proscenium arch stage, Driftwood now performs in the round, and to good effect. The low, square stage, tonight plopped in a clearing at the top of a hill, allows the actors to reach out in all directions. This is especially effective in the opening scene: a fantastically-staged plane crash, updating the storm-buffeted ship from the original text. The modern references to luggage, and use of an air sick bag and toy parachutes, elicit laughs. As they bail from the faltering aircraft, the actors fly off the stage in all directions and out into the audience and beyond. They make good use of the entire surrounding space over the course of the performance.
At the heart of the play, Richard Alan Campbell as Prospero is grave and world-weary as befits a duke down on his fortunes. He is dressed in a dirty undershirt, animal skin and feathers, washed out and wan in earth tones. Campbell's performance is compelling; I can't take my eyes off him.
The stage brightens with the arrival of Madeleine Donohue and Peter van Gestel, as Trinculo and Stephano, respectively. Their delightfully comic performances provide levity in this story of betrayal and dark magic. They also perform double duty as the puppeteers behind Ariel and Caliban, highlighting an economy of casting and production that lies at the foundation of a lean and experienced touring machine. It befits the theatre group's mission statement: "Our aesthetic is one of simple clarity: to tell the best stories and to tell them honestly."
The simplicity moves through all aspects of the show, providing clean lines upon which our imaginations can grow. It's how a steering wheel becomes an entire airplane; how a bit of lace and colour becomes a fairy; how we can see past the actors working the puppet to focus instead on the monstrous Caliban himself.
As the second half begins, an almost-full, golden moon peeks from behind the high-rises, skimming the treetops; the hum of the DVP playing underneath. We are bundled under blankets, the tips of our noses chilled, and we remember why we are here: the electricity of Shakespeare's timeless words, offered plainly but evocatively, crackles through the ethers and jolts us from our complacency, animates our spirits. The Driftwood Theatre Group believes that "everyone who wants to be entertained, provoked, inspired or moved by theatre should be afforded the opportunity to do so." And we have been. And we are.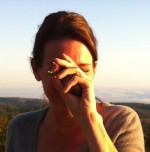 Anne Heathcote—a writer, inveterate roadtripper and theatre lover—is counting her blessings in Prince Edward County.
---