Actors' Colony Theatre, Bala
With my Designated Travel Companion (DTC) at the wheel, I am headed north to the land of sixteen hundred lakes, granite outcrops, millionaire mansions, Kurt and Goldie. Cottage country. I know this area mostly by reputation: endless bumper-to-bumper drives up and down, at the poles of the weekend; more long line-ups at that famous hamburger joint on Highway 11; the movie Meatballs.
But this cottage country isn't the cottage country I grew up with. I was raised in Southwestern Ontario where our cabin was on a lake so great, you couldn't see the other side of it, and the beaches were wide and sandy. So I am completely gobsmacked when I step out of the car to take a photo of the Bala  town sign and am hit with the unmistakable scent of cottage/water/beach from my childhood. It's a heady mixture of smells I've never been able to dissect ingredient by ingredient, but which I recognize immediately. One of those early memories that embed themselves in our DNA, like the smell of a new box of crayons or a purple-inked math test still warm from the Ditto machine.
The trip north, on a sunny Saturday morning, requires a great deal of fortitude on my part. Countless yard sales, farm stands, butter tart stands, even an art show under a tent in the park of a small hamlet tug at the steering wheel. It's a longish drive today and I don't want to be late to meet Eva Moore, Artistic Director/Producer/Director/Force of Nature at Actors' Colony Theatre.
Eva Moore is a helluva dame.
It's an old-fashioned term my Mom uses, and one not in wide circulation these days. But how else to describe a woman who has the gumption to restart a long-defunct theatre group through sheer force of will? Not in any way to discount the efforts of the many behind Actors' Colony Theatre (ACT), but when we meet for coffee, Eva is working it. The box office phone is forwarded to her cell, and she answers a couple of calls while we chat. She takes ticket reservations, gives directions, and strategizes with a volunteer about where to find chairs to get the number of seats above 70. "The Anglicans have some extra ones and my neighbour has a trailer." I tell her this is the greatest quote I've ever transcribed.
After helming the Stephenville Theatre Festival in Newfoundland for five years, Eva came to Bala to visit her old friend Annette Procunier, an international theatre adjudicator, in the autumn of 2010. She never left. That winter, after learning that professional theatre was birthed right here, and over a bottle of wine, a plan was hatched to relaunch the company.
Actors' Colony Theatre was the first professional troupe in Canada, founded by John Holden in 1934 in exchange for room and board. The first group of actors were each paid the princely sum of $11 for the season. The company performed in Victory Hall; the theatre upstairs, the jail downstairs. Eva tells us that Saturday evening performances were often interrupted by the ruckus from drunk tank inhabitants who quickly learned that their silence could be bought with cigarettes. The Victory Hall burned down in 1942. With the venue gone and their young men off to war, priorities were elsewhere. ACT all but faded from memory.
That second beginning, summer of 2011, the New Actors' Colony Theatre (the 'New' was dropped this year) produced four shows in repertory plus one 'bought' show. Without a dedicated theatre space, the troupe set up shop in the Bala Community Centre. Mounting a season in a shared space had its complications. There wasn't a drunk tank to deal with, but the thrice-weekly exercise class required a full set strike. Ditto Monday night bingo. Since 2012, the troupe has made a home in the town's curling club.
While Eva takes a call, I poke around Cottage Cravings Café and Gift Shop where we've been chatting. It's been here for just over two years, reincarnated after an earlier location in Gravenhurst was razed by a fire. The owners, Henny and Randy Brown, had been living upstairs of the store; they lost everything.
This current version is a one-stop shop: a gift store, ice cream/hot chocolate bar (seasonally), sandwich counter, with a freezer full of prepared foods made in the homey kitchen right at the front. Cottage Cravings seems like the sort of place where you head in for a coffee and kind of wander over to the retail section and come out with linen napkins, a couple of candles and a jar of fancy mustard you didn't realise you needed but are glad to have. Henny tells me that variety is what allows them to stay open year-round, after the summer population of several thousand dwindles to 416 full-timers.
We bid Eva goodbye and head over to the theatre's box office to pick up tickets for this evening. While waiting my turn at the trailer, I strike up a conversation with a smiling blonde-haired woman who is waiting beside her motorcycle. We chatter about what I'm doing in Bala, what she's doing in Bala, and our common plans to see this evening's performance of Driving Miss Daisy. Kate, one of ACT's 20+ active volunteers, gets me sorted quickly.
I wander next door to Overboard, a woman's clothing and home accents store. Inside, owner Sheila Overbeek is making connections with a new customer as she rings up her purchases. They discover friends in common—Sheila's neighbour plowed Laurie's driveway this winter or something like that; I'm trying not to eavesdrop. But what I get is that sense of small town connectedness I've witnessed time and again.
High atop a shelf, in amongst the glassware and kitchen accessories, I discover a taxidermy bear cub who looks as surprised as I am. Sheila tells me that it was found on the side of the road by her stepfather, who then had it stuffed, more than 20 years ago. It's become somewhat of a mascot for the store. Which is why, when its nose got squished while being driven in the front seat of Sheila's Audi (to transport it, not for a joy ride), she had it repaired by a girlfriend who just happens to have that skill set. Handy. And now that the tail's fallen off, back to the shop it goes.
Sheila herself is a hoot. I feel like I could have yapped with her all afternoon. She has a great sense of style: cropped haircut, big earrings, and is wearing a softly flowing sweater over comfortably rumpled linen trousers. It's the same casual chic that's echoed in the clothing on the racks. She tells me that the ACT box office is the church's repurposed crepe shack that gets hauled out for the Cranberry Festival. She offered to host it on her lot, just one way she supports the troupe.
Next, DTC and I take a spin up to Johnston's Cranberry Marsh a few kilometres northwest of town. The business, started by Orville Johnston in 1950, is one of only three cranberry farms in the province. Inside the shop, we are surprised by the vast assortment of cranberry-themed products: preserves; cookbooks; candles; juice; and frozen, dried, or chocolate-dipped cranberries. I am intrigued by the deep red brown of the cranberry honey, produced by bees which pollinate the blossoms on the farm. There is also a tasting bar for their Muskoka Lakes Winery, which makes wine from fruits native to the area.
We head to the Old Marsh Trail, just down the hill from the shop. I am immediately descended upon by mosquitoes (this summer's leitmotif, apparently), my DTC unharmed as usual. A standard dousing of insect repellant leaves me un-pestered for the remainder of the trek. Off we go.
From the placards dotted along the trail, I learn that cranberries don't grow in water (I feel like maybe I should have known this already), but the marshes are flooded three times a year. Flooding in spring and winter protects the vines; in the fall, it makes harvesting easier. Also, cranberries float because they have four air chambers. I'm going to clean up next trivia night.
It's a dazzling trek around the original cranberry marsh. Dragonflies dart and dance among the pond lilies, crows caw, and we are briefly serenaded by a bullfrog choir. As we round a bend, I spy stacks of colourful bee boxes that are a hive (sorry) of activity.
DTC notes the fence "to keep bears away."
"Stupid humans," I counter.
"It's an electric fence," he points out.
"Really stupid humans," I counter again.
Turns out DTC is right. We find a note explaining that the electrified fence was added after happy bears discovered the hives the first year. The battery powering the electric fence was moved inside the enclosure after the happy and smart bears learned to unhook it.
The young lady at the shop had said that this trail takes approximately 30 minutes to go around. DTC and I are so taken with the sights and sounds that we've been here for nearly an hour.
We've worked up an appetite. Good thing we have pre-booked ACT's dinner theatre package at Moon River Lookout. We're cheerfully greeted by Tiffany Bol, who has owned this restaurant with her husband Ken, the chef, for more than 15 years. We walk through a wood-paneled main dining room to a screened-in front porch that looks like it belongs to the lavish Muskoka cottage owned by your millionaire friends. It's a terrific space, with elevated views over the river, and, I'm told, sensational winter sunsets.
As an homage to Bala's designation as Cranberry Capital of Ontario, our salad greens are dotted with dried versions of the fruit, and the hand-battered lake pickerel is accompanied by a pink, cranberry-infused tartar sauce. Also, some really really excellent fries. It's a lovely meal, perfectly prepared and presented.
We chat with the locals the next table over who tell us to follow their car to the show as they're headed there as well. The building we pull up to is unmistakably a curling club. Long, low building, metal sides and top, a gravel parking lot. A true go-getter,  Eva is taking tickets at the door. I say hello to the lady I met earlier at the box office and ask where her motorcycle is. She tells me that she arrived here by boat; she's yet to get inside a car this weekend. Cottage life.
The interior of the curling club has been magically transformed into a black box theatre. Heavy curtains line the walls to make the space more intimate. A low stage sits in what I guess would be the middle of the ice, were it winter. The economical set—a desk and a chair here, a table with a telephone on it over there, a couple of chairs down stage right—suffices. Two straight-backed chairs on a lower riser, a pair of cushions behind, create the car. Effective use of lighting delineates where we are, where to look. This is theatrical simplicity at its best.
The actors give charming and effective performances. Little musical interludes with cello, violin and banjo move us along. The play is a series of vignettes which trace the deepening relationship between Daisy and her chauffeur Hoke, and also gently show the passage of time. The largest leap forward, with its attendant aging of the characters, is done so well, with now-trembling voices and unsteady gaits, murmurs of appreciation ripple through the audience.
Response to this production has been great. So great, in fact, on a recent night, Eva had to turn people away at the door; they literally ran out of seats. One enterprising couple pulled two camp chairs out of the trunk of their car and plopped themselves down at the back of the theatre. BYOC.
Like any good story, there have been a few twists and turns along the way for Actors' Colony Theatre. This season, their fourth, they hope to find their feet, their rhythm. DTC poses the question I am too shy to ask: "Where does your resolve come from?"
Eva apologizes if her answer seems trite, even if it is heartfelt. "It's the right thing to do. Professional theatre started here 80 years ago. Why not fight for it?"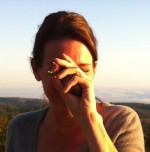 Anne Heathcote—a writer, roadtripper and theatre lover—is counting her blessings in Prince Edward County.
---