Upper Canada Playhouse, Morrisburg
The eight kinds of pie, pre-sliced, pre-plated, and carefully arranged on long tables stretched along a panelled wall are what cement my love affair with Morrisburg.
But I'm getting ahead of myself.
A visit to Upper Canada Playhouse  is my first stop on a season-long plan to travel to a dozen of Ontario's finest summer theatres, explore the sights, take in a show and then blog about it. My Designated Travel Companion (DTC) for this trip is an old friend and an avid theatre-goer and it's she who suggests that A Bedfull of Foreigners would be a great way to launch my adventure. And she's absolutely right.
Finding the balance between expediency (Hwy 401) and beauty (anything else), we turn off a half hour west of Morrisburg, and follow #2 along the water. Here, the St. Lawrence Seaway is a broad, beautiful expanse of water and an active shipping throughway allowing ocean freighters to access the furthest reaches of the Great Lakes. In 1958, ten villages along this stretch were flooded in order to deepen the waterway to improve its hydro-generating capabilities and to accommodate the larger vessels. This strategy caused Morrisburg to lose its entire waterfront downtown. Some houses were relocated, and many businesses moved to a strip mall (Canada's oldest) up on Hwy 2.
It's here, in the Morrisburg Village Plaza, that we find Basket Case Café and Gallery. We don't see the café part immediately upon entering. Instead, there are glass cabinets with antiques and jewellery. Poke around the corner and we find Hanna, the owner, and Sandra, one of her volunteers, relaxed and chatting over coffee. They greet us amicably then seamlessly steer us over to the desserts under glass domes.
My DTC selects Aunt Ada's Spice Cake with blueberries (no whipped cream)("I'm a purist" she says), which comes from the baker's family recipe from the 1920s. Sadly, they are out of apple whiskey cake, the most popular dessert item. No matter, my rhubarb strawberry cake with streusel topping and whipped cream (no purist, me) is the best thing I've eaten in forever. It turns out, Aunt Ada's Spice Cake (no whipped cream) is so light and incredible, my travel companion gobbles it up before realizing she's failed to share any with me as previously agreed. So I don't share mine, either.
Hanna and her husband Carl have owned the café for the past seven years. She proudly explains that everything is made from scratch, that they serve fair trade organic coffee and over 70 kinds of tea. The club sandwich is their claim to fame, possibly the reason for an upcoming mention in Food & Drink Magazine. "We use only breast meat," she beams, "even in our soups". There is also a large section of the menu that caters to a celiac clientele.
Our conversation meanders like the paintings hung higgledy-piggledy, floor to ceiling. Much of the artwork is on consignment from local artists. Hanna says they don't care if they make money, as long as the café keeps going. "We are having fun." Business is brisk when the theatre is in season (April to December) with a noticeable decline in the off months. "If that theatre ever closed, we'd be done." While the café enjoys visits from dedicated local regulars, it's the visitors drawn by the theatre that make up the bulk of their traffic. She says this is the case for many of the businesses in the area.
I ask to be pointed to "essential Morrisburg" so I can grab a few photos and a sense of the place. "This is it." says Carl, lean and towering over me. "People ask me where the centre of town is, and I tell them, 'It's wherever you and I are standing.'"
Nonetheless, I am directed to the waterfront to see a few of the older houses left standing along Lakeshore Drive, which once ran behind the main street before the demolition but which now faces directly onto the river. The road is lined with old trees and stately homes and it makes you want to slow down a little. It's the water, however, that draws my travel companion and me.
At the bottom of Ottawa St., a golden retriever plays fetch in the water near the dock and I glimpse a freighter, slow and silent and moving at a surprisingly good clip across the water.  A cerulean sky is populated with The Simpsons-style clouds, impossibly white and fluffy. The park has an amphitheatre and space to run and play and stretch out; it's a good place to dip a toe and watch a fisherman cast a hopeful line.
We are on time to meet up with Donnie Bowes, the Artistic Director of Upper Canada Playhouse and director of tonight's show. He is tall and gregarious and has kind eyes. I like him immediately.
Standing outside the theatre he has helmed the last 14 years, Donnie tells us about the murals painted on the front of the building. They were part of a tourism initiative several years ago and the ones here depict the downtown, before the flooding; they've become a tourist attraction themselves.
The Playhouse recently underwent $800,000 worth of upgrades and renovations, partially to appease new fire regulations but also to expand office space and reorganize the backstage area. Indeed, as Donnie shows us around, I marvel at how well laid out the entire place is, given that spaces at either end of the building were add-ons; it feels homogeneous. Most impressive is the fact that this was achieved without government funding. The theatre operates successfully via ticket sales (43,000 last summer season!) and a healthy sponsorship program. This year, 71 establishments have signed up to support them. Donnie tells me how gratifying it is to see so many businesses thrive when the company is in season and also "to see an arts organization acknowledged for not only enhancing a community's quality of life but also having a significant impact on the local economy."
In the theatre itself, a very wide, shallow stage takes up a third of the room. Seating – in 275 cushy new chairs, part of the extensive renovation – is broadly spaced but not deep, so everyone is close to the action, with excellent sightlines. The low ceiling did not allow for the rows of seats to be raked in a steep pitch, so some innovation and comprise were called for. It works beautifully; the theatre feels intimate and comfortable, like a living room.
We are running late so our host drives us over to the next stop.
Large salad bowls filled with cubed cheddar, two kinds of pickles, coleslaw, glasses of tomato juice, the aforementioned pie, dartboards hanging on walls, closed and silent, awaiting the end of the meal. We are at the actors' table at the Royal Canadian Legion in Morrisburg. Upper Canada Playhouse puts on a Country Supper a couple times per run, and it's an impressive spread. For $10 on top of the regular ticket price, members of the audience get to rub shoulders with members of the theatre company and are served a fine meal to boot. Tonight it's roast turkey with mashed and stuffing and gravy and a bit of veg. Actors' table gets to go first.
(Word to the wise: grab your pie before dinner if you have a preference. The pecan and the strawberry are first to go.)
My DTC and I sit with Donnie and several actors from the show: Alison Lawrence, Jamie Williams, Shaun Clarke and Marshall Button. All are longtime collaborators with Upper Canada Playhouse. They chat easily about their day: golf games and laundry and going for a run along the waterfront. Alison and I discover our dinner plates are Fiestaware by carefully lifting the laden dishes above our heads to check the mark, neither of us spilling a drop of gravy.
I try to not ask too many questions about work while they're eating, but I do corner Marshall between dinner and dessert. He is best known across the country for the four installments of his successful one-man show Lucien. He also served as Artistic Director of Upper Canada Playhouse for a good chunk of the early years of the company, back when shows were mounted in a permanent tent-like structure that had been raised for a different theatrical venture. It was he who moved the fledgling company into its current home on the main drag, a former toothbrush factory and, even earlier, an argyle sock factory. Legend has it that Marshall and other company members were still bolting seats to the floor just hours before the first audience rolled in. He delights to add that the scaffolding under the seating was rescued from the tent before demolition and then repurposed. As was the large expanse of canvas he uses to keep his driveway clean when mulch is delivered.
It's a fine night so we decide to walk back to the theatre. Donnie points out that Ottawa St. in Morrisburg leads directly to Bank St. in Ottawa, a mere 50 minutes away. Upper Canada Playhouse, now in its 31st season, draws audiences mainly from 50 villages and small towns within a triangle defined by Ottawa, Cornwall and Brockville at its points.
The next show in the summer lineup is a world premiere of The Ladies Foursome by Norm Foster, Canada's most performed playwright. It's a sequel to his popular comedy The Foursome but with new characters and storyline, and is expected to draw audiences from further afield. Donnie says that Norm is here for rehearsals with guest director Jesse Collins because the script is being tweaked during this first rehearsal for the show. It's quite a coup.
We have a half hour to spare, so DTC and I head over to the Giant Tiger next door, which is apparently the best Giant Tiger in Canada, as exclaimed by Alison at dinner. Donnie told us how the theatre's Front of House staff have been training the store's customers for years, helping to hustle them in and stuff their parcels under the lobby seats just before curtain. In fact, he said, several businesses ask for the time the show comes down so they can add staff to handle the inundation of theatre patrons on their way home.
We leave enough time to stuff our parcels into my car before heading to the show.
The theatre is filled to capacity. In the pre-show dimmed lighting, the set, designed and lit by Sean Free, is revealed as a two bedroom hotel suite, with a partial wall dividing the sleeping areas. Tired furnishings, faded upholstery, and just enough mildew creeping up the walls suggest a hotel long past its prime. There are enough doors and windows onstage to intrigue a farce lover like me.
A Bedfull of Foreigners  by Dave Freeman can be most accurately described as a gleeful, madcap romp. In the story, Brits Brenda and Stanley find themselves in the last available room in a French hotel during the Festival of St. Wolfgang. An overwhelmed hotel manager and his shifty handyman accidentally double-book the room. Add in a pompous businessman, his wife, and his mistress, and what follows is textbook bedroom farce: misunderstandings pile one atop another, leading to mounting lies and deceptions, whipstitch entrances and exits, all framed by a rapid-fire line delivery from the superbly talented cast. It's shameless fun, served up at a gallop that leaves you breathless. Wet trousers, a pink climbing rope and a nun's costume all figure into the action. Actually, so does a monk's robe, worn by several actors. Also, a naked lady.
Under Donnie Bowes' sure hand, the play moves along smoothly at a brisk clip. Every comedic possibility is mined, every transition seamless, and the actors seem to be enjoying themselves, especially crowd favourite Marshall Button.
The audience responds with big open-mouthed laughs then stifled giggles so as to not miss a word of dialogue. A woman a few rows over keeps apologizing for guffawing so loudly. It's that kind of a show. The evening ends with a standing ovation from the appreciative crowd.
You have a few chances left to catch A Bedfull of Foreigners before it closes on June 29th. The next show, the world premiere of Norm Foster's The Ladies Foursome, opens July 3rd.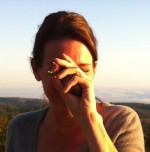 Anne Heathcote—a writer, inveterate roadtripper and theatre lover—is counting her blessings in Prince Edward County.
---