4th Line Theatre, Millbrook
Robert Winslow scans the skies, the same ones he's watched since childhood.  A moment earlier, our conversation had been interrupted by a low rumble off in the distance. He looks at a heavy stack of dark clouds moving in from the northwest, cocks his head to the side a moment, then declares it to be safe. He predicts the storm will roll past and the show will go on this evening as scheduled.
Robert Winslow knows the air currents well. "Too well," he says. When you are the Founding Artistic Director of an outdoor theatre company, the ability to understand weather patterns (and maybe exert a little control over same, as whispered to me by a couple of the actors) becomes a job requirement.
We are seated in Muskoka chairs in Robert's backyard, which also happens to be the backyard for 4th Line Theatre, just outside Millbrook. There is a low rail fence that doesn't really offer much in the way of privacy. He says he doesn't mind, though, living so close to the action; he maintains the same welcoming atmosphere his grandparents did when they lived here.
For Robert—AD, playwright, director, actor—with his already-established career in the more usual theatrical venues, I ask him why here? Why start a theatre company on a farm (almost) in the middle of nowhere? He tells me it was a confluence of events that led to the beginnings of 4th Line. He had inherited his family's 150-year-old farm, wasn't sure how to keep it going, and was finding traditional indoor theatre "depressing". So he arrived at a solution that would see him through to the current season, its 23rd.
"4th Line has a  mandate to tell stories about our history that are not well known but are interesting," he says; especially untold stories about a rural area. He is still surprised at the public's appetite for historical plays. And while it's a challenge to create theatre out in the country in southeastern Ontario, the setting "offers a sense of place and home and landscape. It means something to somebody." I think that's the core belief behind every artistic venture.
—————————-
The village of Millbrook is centrally located; a half hour north of Port Hope, 20 minutes west of Peterborough, an hour and a half from Toronto. Settled in 1816, the village prospered for decades before losing many inhabitants to new settlements out west, riding the rail lines that had bypassed Millbrook. These days, the village offers a peek back into those earlier times. Many of the downtown buildings look much the same as when they were erected following the Great Fire of 1875. This lends a quiet charm to Main Street Millbrook, an old-fashioned sensibility that harkens back to simpler times. But maybe quiet isn't quite the right word. The peace is punctured by the music that spills out from Joseph's Barber Shop near the corner. Word has it, while you're in the chair, you get to play DJ and choose from the 1000s of CDs he has waiting.
Today's Designated Travel Companion (DTC) and I arrive a little early so we park on King Street and are immediately drawn into a pocket-sized bakery. Pastry Peddler, owned and operated by Colin Hall and Deanna Bell-Hall, is a feast for the eyes. And nose. And mouth. Turns out the owners are avid cyclists, hence the name, hence the bikes hanging on the walls. It also turns out they are incredible bakers. After starting out in the Peterborough farmer's market, the peddlers upgraded to the brick and mortar store just a few years ago. And more than one person I spoke to thanked the heavens for its arrival, including Robert Winslow who called it "the best thing to happen to Millbrook". He should know. He has a sandwich (scrambled egg, bacon, cheddar, tomato chutney on a toasted bagel) named after him.
I didn't have a Winslow, but I did manage to grab some baked goods. For, uh, research purposes. (Hot tip: don't miss the orange-scented date squares. Trust me.)
My DTC stays behind to finish his cappuccino and sketch the streetscape (and eat most of the Hello Deanna), so I sashay down the road a bit, in time to the Serena Ryder being pumped out a few doors away. Even though there are people about, no one seems to be in a particular hurry. Millbrook is a quality-of-life kind of place, where ex-urbanites trade staggering mortgages and soul-sucking daily commutes for a more sedate pace. They come here and give up briefcases for paintbrushes, or business suits for yoga pants.
Maybe this was the draw for Anita Huntley, designer and owner of Peepboo, a line of stylish yet practical clothing for breastfeeding mothers. Although she maintains her corporate law practice, and the majority of Peepboo sales are online, Anita staffs her part of the store—shared with a photographer—on Fridays and Saturdays. It's a beautiful space; all brick walls and high ceilings and big windows.
A display catches my eye. A hooded mannequin is draped in ruches of fabric, splashed with paint, dotted with photographs, a trail of toys strung on ribbons splayed out behind. Anita explains that it's wearable art, created for a recent fashion show. The piece, called The Mother Hood, is cotton coated with wax; she's waiting to see if it melts in the sunny south-facing window.
A bit further down the street, I slip into Bear Essentials and am met with a wall of Lampe Berger products. Every single fragrance they make, according to the salesperson, including the one I love that's recently been discontinued. They have two. I grab two.
The long narrow gift store is chock-a-block with an eclectic collection of items, from teddy bears to handcrafted pottery to locally-roasted coffee beans. Owner Bonnie McQuarrie explains that in a small town, you best assist your customers when you offer them a large selection. That includes services; she's located her design business, Bethany Hills Interiors, at the back of the store.
At Oasis Spa and Boutique, owner Nancy Fallis is busy giving a pedicure at the front, so I slip past to the retail section. Among the racks of women's clothing and hats and jewellery, my eye is drawn to a rainbow of ribbon scarves created by a local artisan. As I admire the pristine tin ceilings, a customer confesses that she doesn't have faith in her own fashion sense but trusts Nancy, and will try on everything thrust at her through the change room curtain.
I later ask Lance Nachoff, Manager of Marketing and Development at 4th Line Theatre, if any of the shops I've visited this afternoon are sponsors. "In a community this size" he says, "who isn't?" And it's a fair point. Although the calendar is rife with year-round events ranging from the Classic Car Show to the Zucchini Festival in September (You can catapult a zuc into the mill pond! Because why not?!?), the theatre sees nearly 14,000 patrons over its summer season; the kind of concentration of visitors that can change a village's fortune. It's a symbiotic relationship that has sustained theatrical communities for centuries. Everybody wins.
On Winslow Farms, a short drive from Millbrook, the courtyard adjacent to Robert's home houses a covered pavilion where the Festival Fridays talks are held. The concession stand sells snacks and beverages (including coffee, which proves a popular choice at intermission when the temperature drops). A changing roster of vendors are lined up under the shade trees. Today there are offerings of gorgeous organic produce, perogies and cabbage rolls, sandwiches and salads, and baked goods from the recently crowned winner of Ontario's Best Butter Tart. I contemplate this last bit of information. And then I contemplate the butter tarts on display. And then I remember the box of baked goodness from Pastry Peddler sitting in my car, and I back away slowly.
We have just a half hour before show time, so DTC and I find a spot at a table and dive into the picnic dinners, from Baxter Creek Golf Club, that we ordered through the box office. It's a small celebration to reach into that brown paper bag and pull out sandwiches, cheese, vegetables, slices of watermelon. Some patrons have brought their own food, purchasing wine from the concession stand to go with. All theatrical experiences should be this civilized.
We make our way to the show. The playing area is created by the junction of two barns, which form a natural stage. There are multiple entrances and levels and staircases between, with an overgrown field to the right, spreading back to a line of trees that obscures the horizon. The seats—plastic chairs on risers—allow a comfortable view of the staging area. Ours are near the front of, but not quite under, the covered section. It affords me a perfect view of not only the stage, but also a hungry baby swallow plopped in an eavestrough awaiting dinner. The place is teeming with swallows, from Argentina I'm told, swooping and zipping to and fro in search of a meal.
SPOILER ALERT: the swallows zoom continuously, right through the action. And they do a good job. I don't have to swat at a single mosquito for the duration.
WARNING: DTC's straw hat receives a *cough*souvenir from the swallows during the course of the show. Still better than mosquitoes.
The play, Doctor Barnardo's Children, is enjoying its third mounting at 4th Line. Written by Robert Winslow and Ian McLachlan, the show debuted in 2005 and was brought back by popular demand in 2006. The title character, Thomas Barnardo, is a polarizing figure in British history. Responding to a need for improved child welfare in Victorian England, Dr. Barnardo took in destitute children from the streets of London, provided homes and training for them, and then sent many overseas to the colonies to improve their quality of life. The results were mixed, to say the least. Of the 30,000 Barnardo children sent to Canada, a great number of them ended up as unpaid farm and home labour, isolated, and with permanently severed family ties. The play traces the stories of Billy and Walter, two Barnardo boys, sent to farms in the Peterborough area.
The sequel, Wounded Soldiers, is the next show up at the farm. The play follows a Barnardo boy into the battlefields of World War One. It has its highly anticipated world premiere on August 5th. (link) Unintentional but meaningful: August 5, 2014 marks the 100th anniversary of Canada's declaration of war with Germany.
This performance of Doctor Barnardo's Children starts off with a little prelude to warm us into the story, into our seats. A few announcements then we're off with a band and a song and three dozen children galloping through the space. The stories of Billy and Walter unfold gradually, back and forth, past and present, and we are nimbly swept along with them. Deeply moving, the play swings between moments of levity and joy, and real heartbreak. The characters tell their stories—to each other, sometimes directly to the audience, and often, it seems, to themselves. Somehow the act of the recounting, of putting it into words, helps to clarify and give shape to their unimaginable journeys.
The performances are note perfect. The old(er) guard, particularly Geoff Hewitson and Gary Bryant as Billy Fiddler and Walter White, are an absolute delight to watch. Both are reprising their roles from the earlier productions and both provide strong gravitational centres in a show that, at times, whirls wildly with activity. The two young leads, Liam Davidson as Young Billy and Justin Laurie as Young Walter, demonstrate enormous talent and range in roles that are tricky, to say the least. They manage to wring humour and pathos out of the alarming circumstances in which their characters find themselves.
Most surprising for me, however, is the absolute skill and discipline of the volunteer child actors. Ranging in age from 4 to 16, they hit their marks, hit their cues, and hold their 'frozen' positions during the long stretches where the action is happening elsewhere. They act like the consummate professionals they aren't. Truly impressive.
I love this play, immediately and fervently. It grabs at me, grabs my heart, and doesn't relinquish control until long after I've pulled into my own driveway, a few hours later.
—————————-
Robert and I talk about the difference between productions set in a typical black box theatre and out here, in "an environment in which to do theatre", as he calls it. The setting, where chipmunks skitter and starlings chatter and the harsh July sun softens into a warm glow, there is "no veneer" between the production and the audience. There's no controlling the environment. You are in it. You are a part of it.
So when thunder continues to grumble and Robert's eyes steal over to the horizon more than once, I understand. Even though 4th Line has had only three rainouts in five seasons, a weather alchemist needs to watch the skies.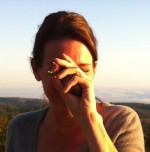 Anne Heathcote—a writer, inveterate roadtripper and theatre lover—is counting her blessings in Prince Edward County.
---